Mobile computing
AX-Services Mobility is our new and innovative family of products which provides your mobile employees with immediate access to the Microsoft Dynamics AX ERP system. It is based on 15 years of experience with ERP-systems and mobile terminal solutions, barcode scanning etc. We have built a partnership with the 3 leading technology providers, Microsoft, Motorola and AX2Mobile.
We provide solutions for mobile computing to Microsoft Dynamics AX in 3 main areas:
Internal logistics (counting, receiving, picking, movement, consumption)
Project and Service (hours, items, notes, photo, GPS position, signature, etc.)
Sales order (take order, delivery, invoicing)
Example: Projekt administration adapted for Air Greenland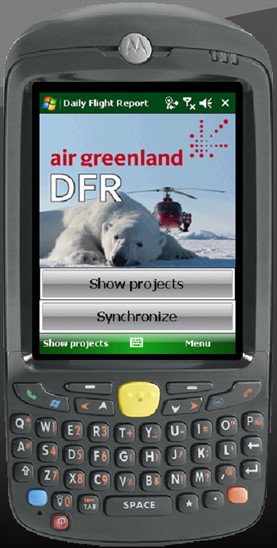 Key features
A new and innovative user interface. In addition to Keyboard also touch-screen can be used in a style known from the iPhone. The result is an easy and intuitive operation for all employees. This leads to a positive attitude and accept of the new working tool a PDA may be.
Extremely robust software. The PDA / barcode scanner operates both online and offline because the system is based on a store-and-forward principle. This means that in case of a missing wireless connection you can still continue working and later on synchronize the data.
Data registration by barcode scanning, RFID and optionally position data by GPS.
Tight integration with the ERP system Microsoft Dynamics AX. The integration builds on a deep knowledge of the Dynamics AX, the implementation of business processes for logistics, project and service.
A family of standard software products which 80-100% suit the needs. Also it is products which are build on a platform which allows for an easy adaption to special needs.
Well proven software of a high quality. An example is AX-Services has delivered a mobile computing solution for Air Greenland. 20 helicopters are equipped with PDA's for administration of helicopter flights. - a solution which is proven in an arctic environment and in a wide geographical area.
The potential for an AX-Services Mobility solution is often big and the ROI is 1-2 years, or maybe shorter.
AX-Services Mobility is sold through the Micro Dynamics AX partner network.
Please contact us for further information.